News
July 13, 2015
Climate Service Center 2.0 takes over CSP newsletter
CSP Newsletter Cover
The Climate Service Center 2.0 is delighted to announce its taking over of the international Climate Service Partnership newsletter. With this, we have freshly released the July issue.


March 5, 2015
Call for postdocs
The Earth League calls for 7 postdocs to embark on a new generation of integrated Earth system science towards global sustainability
The Earth League, an international alliance of leading scientists and world-class research institutions, is advancing the next generation of integrated Earth system analysis. This will be realised through a joint state-of-the-art World-Earth systems program. For this, young scientists are invited to join an international team of 7 postdocs, i.e. the Earth-Docs.

November 28, 2014
Earth League joint paper
Climate change: the necessary, the possible and the desirable
In time with this year's UNFCCC meeting in Lima, a group of leading scientists, under the coordination of the Earth League Secretariat based at the Climate Service Center 2.0 laid out in a joint paper the key elements of the 'the necessary, the possible and the desirable' in relation to climate change, stressing the profound opportunities for transformation we have before us.


November 12, 2014
New Tool
Climate Focus Paper Global Sea Level Rise
Climate Focus Paper GSLR Titel
Sea level rise (SLR) is of major relevance and importance to a range of different adaptation investment decisions in coastal areas, and as such needs to be adequately considered in climate feasibility studies. This Focus Paper has been developed to raise awareness of the issue and how wide ranging the impacts from SLR are, and to assist decision makers in incorporating future projections of SLR into climate feasibility studies.


November 12, 2014
New Working Paper
Climate change adaptation strategies within the framework of the German "Energiewende" – Is there a need for government interventions and legal obligations?
© University of Lüneburg
The option of adapting to climate change is becoming more important in climate change policy. Hence, responding to climate change now involves both mitigation to address the cause and adaptation as a response to already ongoing or expected changes. These changes are also of relevance for the energy sector in Germany. For the German energy sector, the paper shows, that governmental intervention are for example justifiable regarding measures to adapt the grid infrastructure as a critical infrastructure that needs to be protected against current and future impacts of climate change.


November 04, 2014
Important documents
IPCC "made easy"
© IPCC
The Climate Service Center compiled a document which guides readers through selected documents from the fifth Assessment Report (AR5) of the Intergovernmental Panel on Climate Change (IPCC). It explains briefly selected documents of spezial interest, providing an overview ot the new features of the current report as well as some important insights from the "European chapter" in an understandable way.


October 08, 2014
New release: Report 22
Adaptation to Climate Change in Mountain & Coastal Areas
© Climate Service Center
The Climate Service Center and the Aspen Global Change Institute hosted two innovative workshops that brought together an international group of scientists, stakeholders, resource managers, and elected officials from six specific case regions from mountain and coastal areas in Europe and the US.

The diversity of institutions, cultures, political economies and biophysical and societal impacts included in these case study regions provided a unique opportunity for the cross-pollination of ideas and expansion of networks across institutional, disciplinary and national boundaries. After all, mountain and coastal communities face a number of immediate impacts of climate change from sea level rise on the shores to altered streamflow in mountain streams. The rationale of convening these regional communities therefore was to extract best practices, support the implementation of adaptation measures at regional and local levels, and promote the development, comparison and transfer of scientific and human approaches in areas where climate change is already and will continue to be a critical component of planning and resource management.

The results of the dialogues are summarized in the new Report 22.


Report 22: Adaptation to Climate Change in Mountain & Coastal Areas
August 20, 2014
New release: Report 21
Considering scale and scaling for vulnerability and adaptation studies in the water sector – Case studies in four geographies
© Climate Service Center
Climate change is impacting the hydrologic cycle globally. Understanding how these changes may impact water related resources and hazards are priorities for development and sustainability initiatives. This project explores data quality and relevance for vulnerability and adaptation to climate change studies framing the discussion in the context of scaling limitations and opportunities. Four geographies are selected as case studies for their distinct geologic and hydrologic conditions: a Small Island Developing State, a delta, an estuary and a mountainous region. Common disciplinary approaches utilized for vulnerability and adaptation assessments including remote sensing, modeling, participatory social research and hybrid approaches, are compiled for each region. Within each, the quality and relevance of data resources utilized for addressing common water sector concerns from an environmental hydrology perspective is discussed.


Report 21: Considering scale and scaling for vulnerability and adaptation studies in the water sector
July 31, 2014
New release: Report 20
Assessing governance performance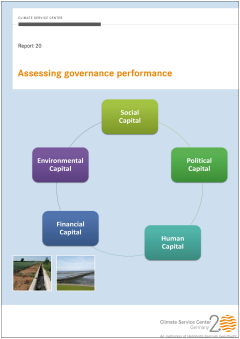 © Climate Service Center
In this report an analytical framework for assessing governance when dealing with natural hazards is presented. This framework is based on the concept of the capital approach. The capital approach enables the authors to analyse the capacity and capability of a partnership to react to environmental hazards. We present two practical examples, where the capital approach has been applied. Both examples are related to case studies of the ENHANCE project – the first one on drought management in Jucar River Basin (Spain), the second on storm surge management along the North Sea Coast with a focus on handling risks and uncertainties in the trilateral Wadden Sea Region (Netherlands, Germany and Denmark). The findings highlight significant elements for good governance processes.


June 04, 2014
Climate Service Center 2.0
Climate Scientist Daniela Jacob Becomes New Head of The Climate Service Center 2.0
Daniela Jacob
Dr. Daniela Jacob has taken over as Acting Director of the Climate Service Center 2.0 as of June 1st. She follows Dr. Guy Brasseur, who headed the Climate Service Center since its inception in 2009. The scientific service institution on climate change in Hamburg is an independent establishment at the Helmholtz-Zentrum Geesthacht.
June 11, 2014
New release: Climate Service Center Report 19
Decision Support Tools as Instruments to facilitate Climate Change Adaptation - The case of the BalticClimate Toolkit for adaptation in the German Baltic Sea region
© Climate Service Center
Planning and implementing measures for adaptation to climate change poses challenges to decision makers already today. In recent years so-called decision support tools have been developed in order to support decision makers to cope with the complexity of climate change decision making contexts and thus facilitate adaptation planning processes. This report aimed at revealing if decision support tools are actually able to assist decisions in the context of climate change adaptation and what requirements they have to meet in order to be effectively applied. Therefore an already existing webbased and guideline-oriented tool addressing people in the Baltic Sea region was investigated: the socalled 'BalticClimate Toolkit'.

June 10, 2014
New release: Climate Service Center Report 18
Prioritisation Method for Adaptation Measures to Climate Change in the Water Sector
© Climate Service Center
Climate change brings new management challenges to the environment and to the economic sectors. The management of water in the face of climate change, as an intersection between the whole economy and the environment, is an example that demands for research input. The proposed prioritisation methodology seeks to evaluate adaptation measures separately, but also compare them as a group. Therefore, it includes a multicriteria comparison which considers not only the cost and benefits as criteria but also analyses the results through economic, environmental and social factors weighted separately. In doing so, it should be possible to select the one with the best performance to face future climate change challenges, independently of each measure's goals. In this document, the methodology and the concepts involved are comprehensively explained. Prior to this, a theoretical focus is presented to link the concepts of climate change, water, adaptation and economics.
June 04, 2014
New release: Adaptation guidebook
Adapting to Climate Change: Methods and Tools for Climate Risk Management
© Climate Service Center
This guidebook, Adapting to climate change: methods and tools for climate risk management, seeks to provide organisations with the information they need in order to understand the range of issues involved in adaptation, and to help them make informed decisions about how they may make progress with adaptation planning in practice.
May 27, 2014
New release: Climate Service Center Report 15
Mapping of Climate Service Providers - Theoretical Foundations and Empirical Results: A German Case Study
© Climate Service Center
The aim of this document is to provide a guidance to support the climate service mapping activities in the JPI Climate member states and non JPI Climate members based on the experiences and lessons learned, including those learned in the initial pilot study in Germany. It provides examples, background information, supportive documents as well as results of this mapping activity and recommendations on how to proceed.
Download Climate Service Center Report 15: Mapping of Climate Service Providers - Theoretical Foundations and Empirical Results: A German Case Study (pdf)