Workshops "Adaptation to climate change in Mountain & Coastal Areas" - transatlantic dialogues
After a successful initial meeting focusing on "Adaptation to climate change in mountain and coastal areas", that was held 16 -19 April at the Climate Service Center (Climate Service Center) in Hamburg, the dialogue was continued on the same topic at the Global Change Institute in Aspen, Colorado 13-16 August.
During both meetings around 40 representatives from business, administration and science shared their experiences with prior climate change adaptation in order to learn from best practice examples. Throughout the course of the meeting several aspects were highlighted: How could we overcome barriers to adaptation? What questions do practitioners address to scientists? How can uncertainties be taken into account? What are the foundations for political decision making?

To get an inside into this exchange and the interesting discussions that followed you can access various presentations here. Furthermore experience reports and "lessons learned" from the workshops are compiled that will soon be available here as well.

Additionally we are interested in a continuation of the dialogue: Please do not hesitate to contact us!

Case study Regions of the Workshop:
German Baltic Sea Coast
U.S. East Coast (Chesapeake Bay & North Carolina)
European Alps (Grindelwald, Switzerland and Virgen, Austria)
Roaring Fork Valley, Colorado, USA (including Aspen)
Main topics:
How does the ski tourism sector respond to changing snow conditions?
Increasing droughts are (not just) stressing mountain forests
How can costal protection measures align with demands of the beach tourism sector?
During field trips these and further questions were discussed with experts on-site.
The presentations held at the first workshop "Adaptation to climate change in mountain and coastal areas"
Further information about the second workshop you will find below:
Adaptation to climate change in mountain & coastal areas: a transatlantic dialogue
The workshop results are sumarized in the Report 22:
Report 22: Adaptation to Climate Change in Mountain & Coastal Areas
The different Report chapters:
Part 1: Adaptation to Climate Change in Mountain & Coastal Areas
Part 2: Enhancing Interaction between Scientists & Practitioners
Part 3: Climate Change Adaption Experiences in the U.S. and Europe
Part 4: Cases Studies for a Transatlantic Dialogue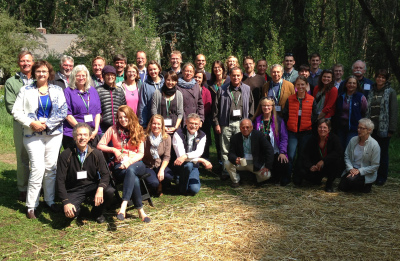 The workshop participants during a field trip in Aspen/Colorado
Contact person at Climate Service Center
Dr. Steffen Bender
Phone: +49 (0) 40 226 338 432
Fax: +49 (0) 40 226 338 163